20 Feb 2016
Georgia State Defense Force Receives Multiple Mentions in State Guard Association's National Newsletter
Georgia State Defense Force Receives Multiple Mentions in State Guard Association's National Newsletter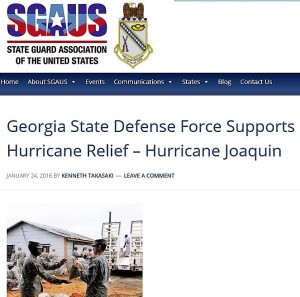 Multiple mentions of the Georgia State Defense Force (GSDF) appear in the Winter 2015/2016 issue of the State Guard Association of the United States (SGAUS) SDF Times. These stories highlight the GSDF's work to a national audience of SDF Times readers.
This issue contains stories on:
Assistance GSDF soldiers provided for hurricane relief efforts near Augusta, Georgia, following Hurricane Joaquin
Support GSDF provided, along with the Georgia Army National Guard and the Georgia Air National Guard, for the Georgia State Marksmanship Clinic
GSDF's successful search and rescue mission for a missing person in Loganville, Georgia
Recognition for GSDF members who assisted with a training program involving numerous full-day, detailed presentations on U.S. military culture and deployment
Read these stories in the https://sgaus.org .