01 Sep 2015
Getting Out, Being Seen, Spreading the Word
Getting Out, Being Seen, Spreading the Word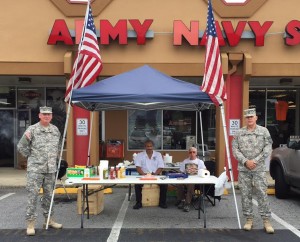 According to Wikipedia.com, marketing is about communicating the value of a product, service or brand to customers or consumers for the purpose of promoting or selling that product, service, or brand. The oldest – and perhaps simplest and most natural form of marketing – is 'word of mouth' marketing.
This is perhaps especially effective for promoting the Georgia State Defense Force; and to be seen in person, in uniform can add the punctuation mark!
Recently members of the Third Battalion/First Brigade were given permission to "spread the word" in front of the Army Navy Store on Hwy. 78 in Snellville. The American Legion was holding a hotdog cookout and fundraiser in front of the popular store and allowed the GSDF soldiers to set-up shop along with them.
"We had a pretty good turn out and talked to a lot of folks", said PFC William Eaton. He, along with PFC David Bryan, handed out GSDF information and took down several names of interested citizens. "One guy even left and went and got a haircut and came back to show us he was high and tight".
The Third Battalion recently put together a formal bulletin board type display for use during recruitment events. It includes photos of GSDF activities for use as talking points. There is a Battalion brochure, as well as the GSDF informational postcards that were furnished by headquarters.
By SGT Lisa Kennedy