15 Dec 2014
Color Guard Serves at Toys for Tots Event
Color Guard Serves at Toys for Tots Event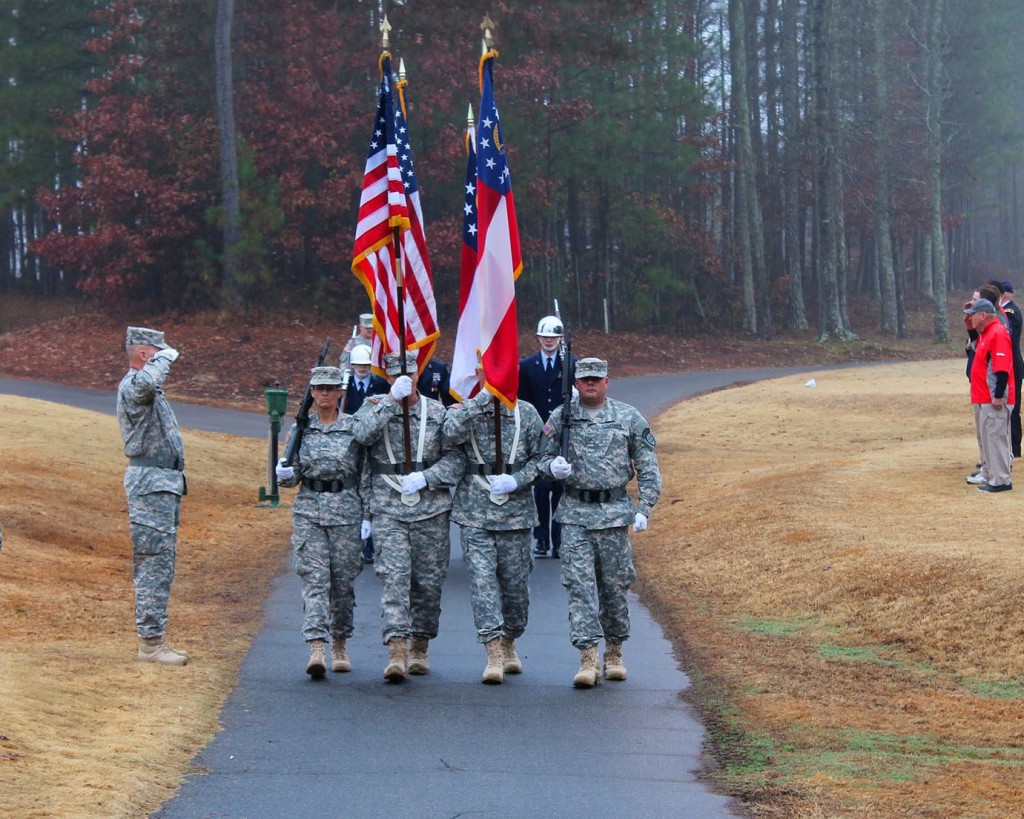 CLAY NATIONAL GUARD CENTER, Marietta, Georgia, December 15, 2014, By SGT Lisa Kennedy
Cool, rainy weather didn't dampen the patriotic spirit recently at the Bear Creek Golf Club in Monroe. Veterans of four U.S. wars lined the green and saluted as the Georgia State Defense Force Color Guard presented the colors at a Toys for Tots toy drive and golf tournament presented by Bear Creek.
General manager Ron Palmer said, "The tournament was a great success. We played 116 golfers on Friday and 96 on Saturday in the rain, a total of 212! Marines picked up piles of toys both days."
The Color Guard is comprised of members of the Third Battalion/First Brigade including SGT Thomas Belcher, PVT Robert Collum, SGT Natalie Dominguez, SSG Eric Horne, PFC Bryan McKendrick. In addition, PVT David Bryan, PVT William Eaton and CW2 Kevin Ward served as escorts.
"We thoroughly enjoyed the color guard and it was very moving. We chose to have members that were veterans to receive the colors. They were very honored to be asked to be part of the ceremony", said Palmer. "The soldiers were great, and performed flawlessly. We were honored to have them."